Graduation Open House
On May 11, 2001, I graduated from the University of Iowa College of Medicine.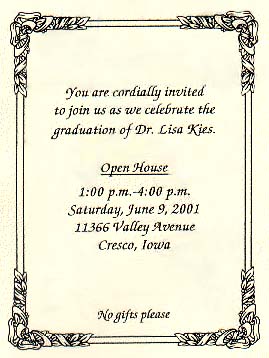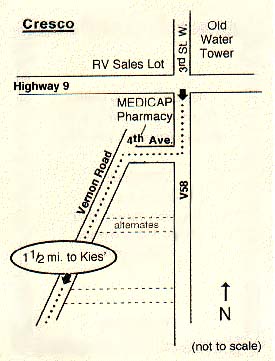 The open house is at our home, an old stone house in Northeast Iowa.
Take your best route to Cresco, Iowa, then turn south from highway 9 onto Highway V58. The corner is marked by the old waterworks, and an RV camper dealership - and a lot of construction.
Take the next right turn (west) onto 4th Avenue, and then turn left (south) at the "T" intersection onto the Vernon Road.
Go out of town about 1.5 miles around two big curves and down into a little valley. We live on the left (east) side of the road, across from the creek and our big white mailbox with the "honey for sale" sign.
The actual address is:
11366 Valley Avenue
Phone: (319) 547-3489