Sofya's Wardrobe
Updated 9 September 2007
If imitation is the sincerest form of flattery, then this webpage is a blatant case of flattery of the webpages of Alexander Bykov and Olga Kuzmin that I translated into English - 15th Century Novgorod Merchant and 15th Century Novgorod Merchant Wife
Sofya lives in the early 14th century, so her wardrobe is a bit different from that shown by Olga Kuzmin. I hope it will be helpful to see what Sofya actually wears, compared to the information in my articles on Early Russian clothing.
---
Rubakha - chemise/dress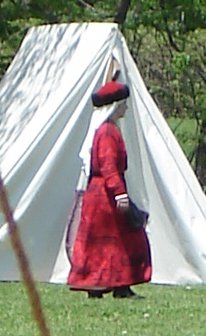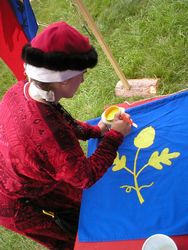 The rubakha, or sorochitsa/sorochka/etc., is the fundamental garment in Sofya's wardrobe. She has several, but always seems to need more. They range from very simple white linen "under rubakhas", up to fine "over rubakhas" with printed dyed fabrics and silk embroidery.

They are all made from essentially the same pattern, just with different levels of fabric quality, sleeve length and ornamentation. It's a wonderful pattern to work with - easily adjustable for different sizes and styles of garment, with very little waste of fabric.

The under rubakhas are made from very light linen-cotton fabric for coolness in summer. The fabric is so light, that Sofya was worried it was too transparent, so she made them with a yoke to provide modesty for the upper part of the body on the very hottest days when she doesn't want to wear an over rubakha. (She wears a zapona or panova to cover the lower part of the body.)

The under rubakhas have very little decoration, but they do have red fabric edging at collar, cuffs and hem - very useful for hiding grime at camping events.

The over rubakhas have very long sleeves, at least a foot longer than the fingertips, so they can be pulled up in luxurious gathers on the forearms. They are made of fine linen, embroidered or dyed, or of silk (or at least what looks like silk).

Sofya's rubakhas are always belted. She uses a simple 1-inch-wide red fabric belt for her under rubakhas. She belts her over rubakhas with her best card-woven belts (although I haven't found iron-clad proof that Russians made belts this way yet).
---
Sources:

Women are depicted in period illustrations much less often than men, and almost never wearing only a rubakha, unless one considers the ceremonial court tunic a rich outer rubakha. This is why one of the illustrations below is actually of young boys shown in a mid 15th century Novgorod icon. Adult men were seldom shown in rubakhas, either, unless they were peasants.
This lack of illustrations of rubakhas does not mean that noble men and women did not go around in rubakhas, any more than the fact that the tsar (unlike the grand prince) is nearly always depicted in a golden crown means he always wore his crown in real life. It's an artistic convention to communicate the rank of the persons being shown in the picture. But it does make research more difficult.

Archeological finds are also rare, because linen is poorly preserved in Russian soils. A few have been recovered from late period royal tombs. Otherwise, we have to reconstruct them based on the remains of collars and cuffs (often made of wool or metallic trim that survives better) compared to similar items surviving in traditional Russian peasant costume.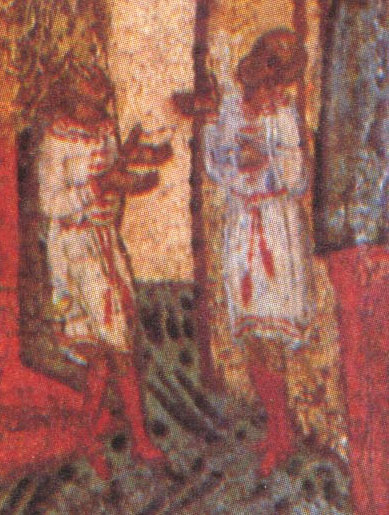 15th Cent. Novgorod Icon.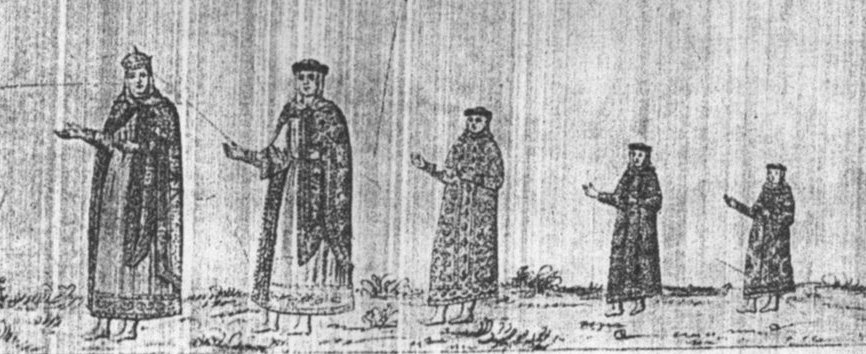 11th Century Fresco in St. Sophia Cathedral, Kiev.
---
Panova - panel skirt.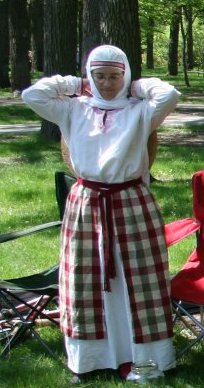 The panova is one of Sofya's favorite garments, despite the difficulty in obtaining appropriate fabric. It adds texture and color to her outfits without adding a lot of warmth for those summer events.

Her panovas are made of three rectangular panels of checked fabric gathered onto a drawstring belt.
---
Sources:

The panova is controversial. It is a traditional Russian peasant garment, but proving it was worn in the medieval period is a challenge. Fragments of fabrics identical to those traditionally used for this skirt by Russian peasants have been found in medieval graves, although in fragmentary form. The other evidence is found etched on rusalka bracelets showing ceremonial dancers that some researchers believe are wearing panovas.

Further evidence is found in comparison with neighboring cultures. Many eastern slav cultures share variations of the panel-skirt, indicating an ancient common origin. And the panova reminds me of iron-age garments such as the Viking "apron dress".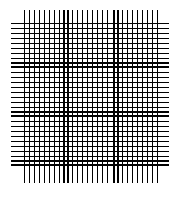 Archeological fabric after Kolchin.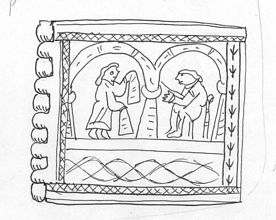 12th Cent. Rusalka Bracelet.
---
Zapona - tabard.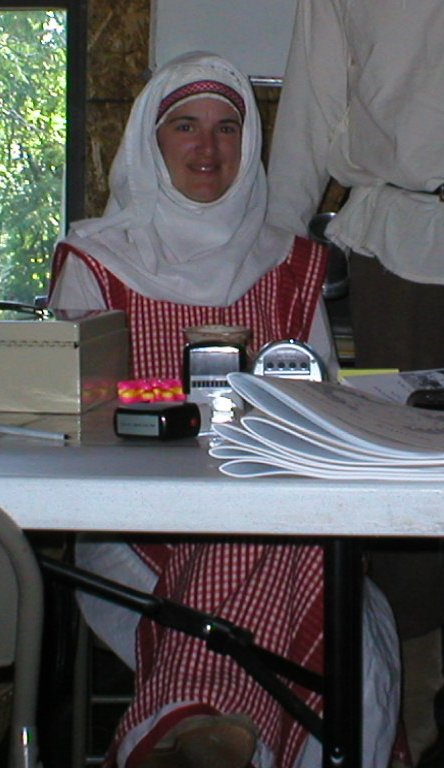 The zapona is another useful garment for those hot summer days, and incredibly easy to make.

It's just a length of shoulder-width fabric with a hole for the head and belted at the waist (or pinned at the sides). Sofya didn't even have to hem the sides, because the fabric was woven to the correct width (recycled from some Goodwill curtains).

Technically, she probably shouldn't wear it because it is supposedly a maiden's garment. Oh, well.
---
Sources: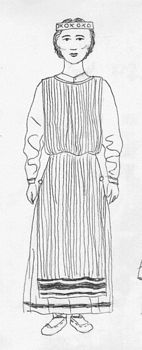 Evidence for this garment is even more sketchy than the evidence for the panova. It is only mentioned by two of my weaker references. It seems to be one of those traditional peasant garments that are thought to be of "ancient" origin.

Illustration after Stamerov.
---
Navershnik - short overdress.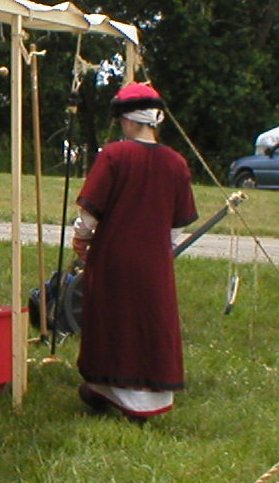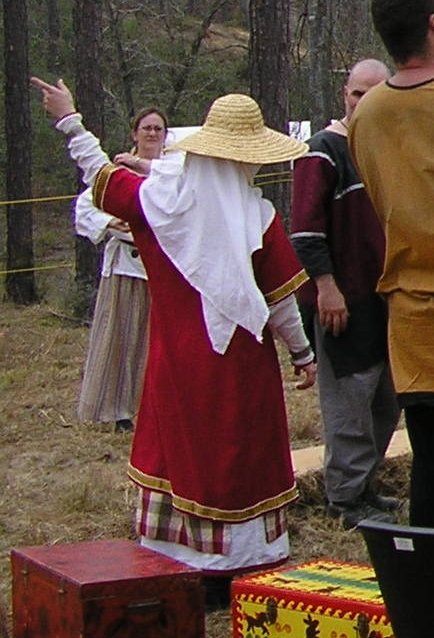 The navershnik is another versatile garment in Sofya's wardrobe.

She has three so far:

1) a relatively long everyday one of burgundy wool with simple black grosgrain ribbon trim,
2) a nicer one of red "linen" with golden ribbon and pearls, and
3) a fancy one of white brocade with elaborate trim.

The pattern is modified from the rubakha pattern with:

larger neck opening (one has a keyhole neckline)
shorter, wider (but still straight) sleeves
slightly wider side gores
shorter hem - knee to mid-calf (or maybe ankle) length
---
Sources:

The length of this garment is a bit controversial. I have heard of judges at A&S competitions insisting it is around knee-length. Certainly, that is an acceptible length - as seen in the first illustration below. However, many similar overgarments are shown at mid-calf length or longer.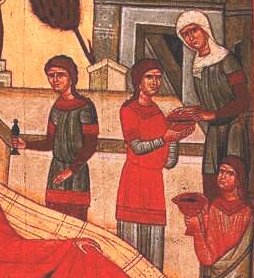 14th Cent. Novgorod Icon.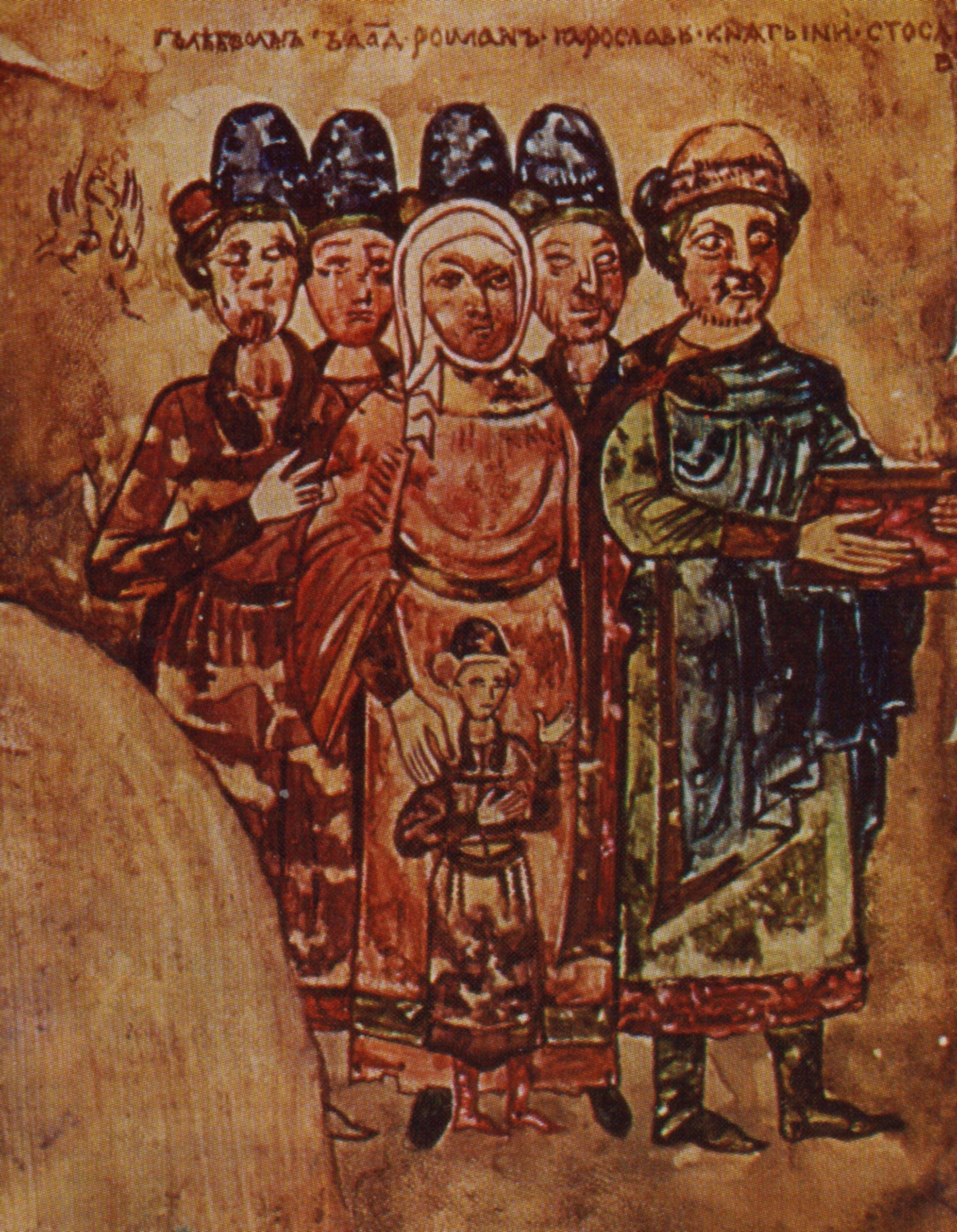 11th Century Sbornik Svyatoslava.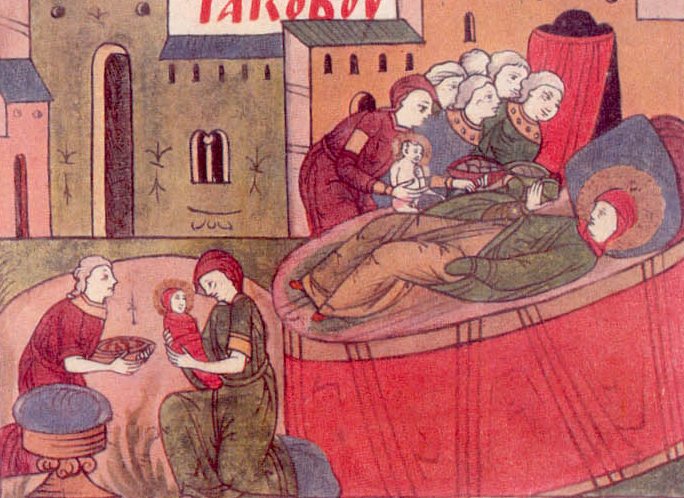 15th-17th century manuscript.
---
Letnik - long overdress.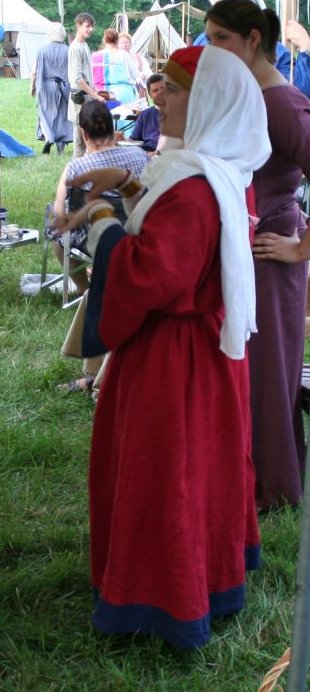 Sofya's linen letnik is modified from the rubakha pattern - more fullness and wide, bell-shaped sleeves. The rich red color and fine smoothness of the linen make it Sofya's favorite fabric to date.

In addition, it is quite comfortable and quite cool - the sleeves make excellent breeze-scoops funneling air right where it is needed most.

Adding the contrasting linen fabric edging added nice structure and flare to the hem and cuffs. Someday there may be embroidery on the cuffs, although she may save that for a fancier letnik, and leave this one as an "everyday" letnik.

Because of its length, the letnik is not as practical as the navershnik for working around camp.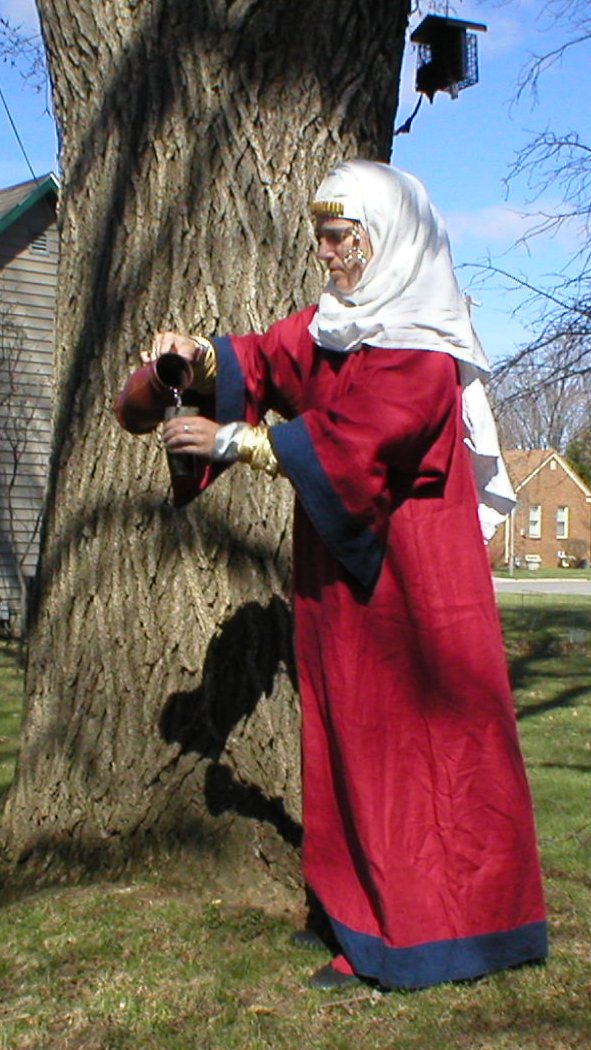 ---
Sources:

I have avoided making a letnik for many years because I had gotten the impression that it was a later period garment. However, the split-sleeved Muscovite-period letnik that I first learned about seems just to be the latest developmental stage of a long, wide-sleeved garment that clearly dates back to Kievan Rus. The version worn by the Kievan Rus court has been called a "dalmatic" by researchers who believed it was directly borrowed from the Byzantine garment.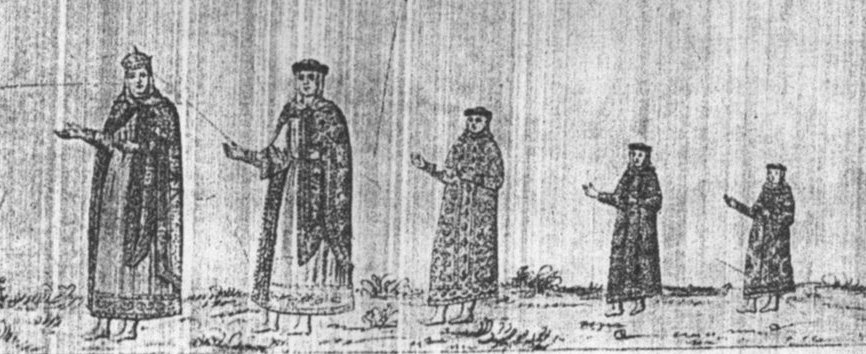 11th Century Fresco in St. Sophia Cathedral, Kiev.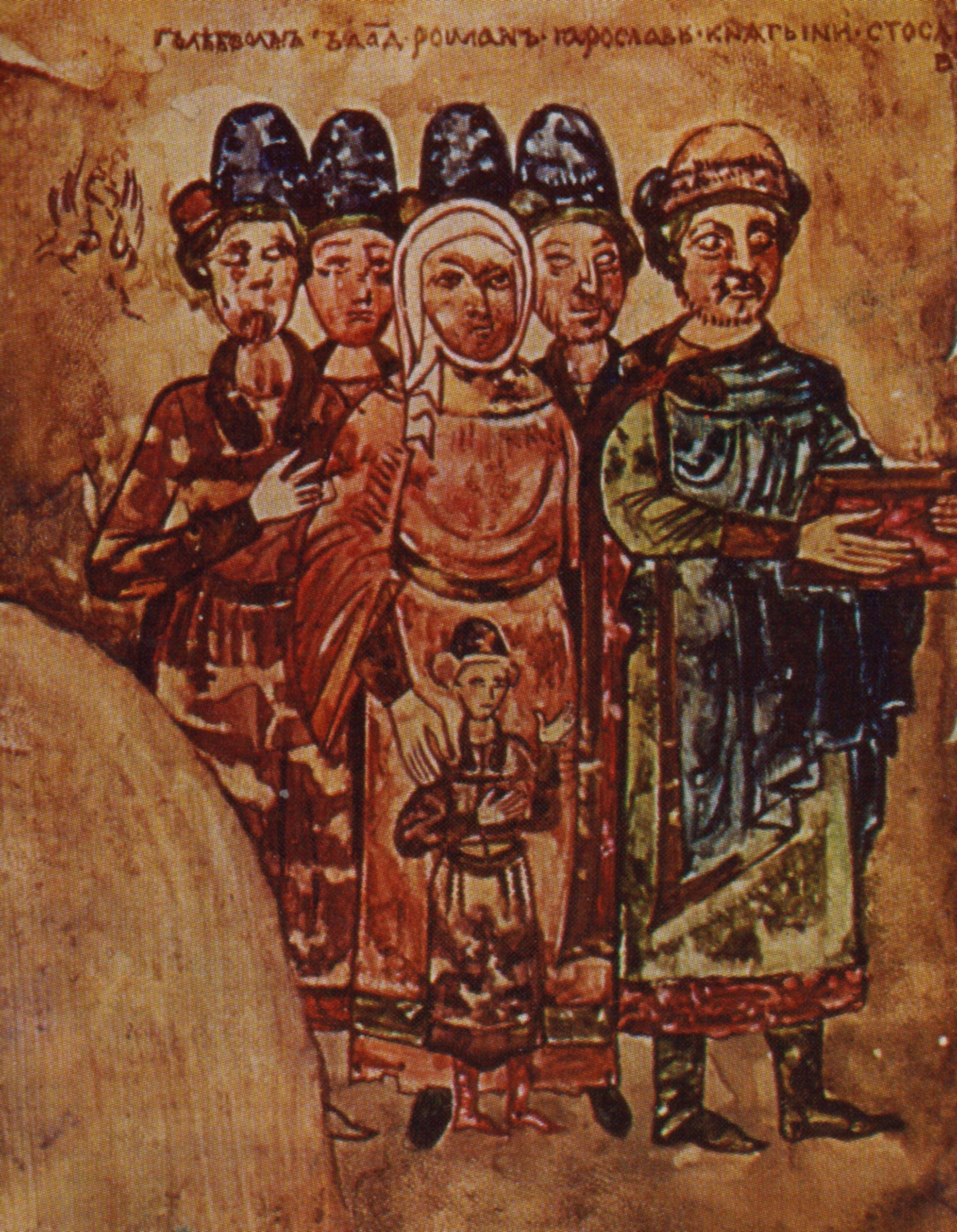 11th Century Sbornik Svyatoslava.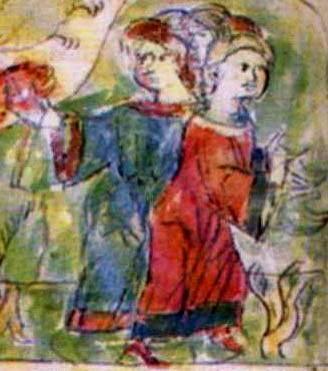 15th Cent. Radzivill Chronicle.

15th C. Novgorod Icon.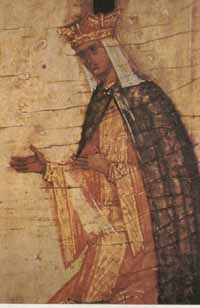 16th C. Icon.
---
Opashen - slit-sleeve coat.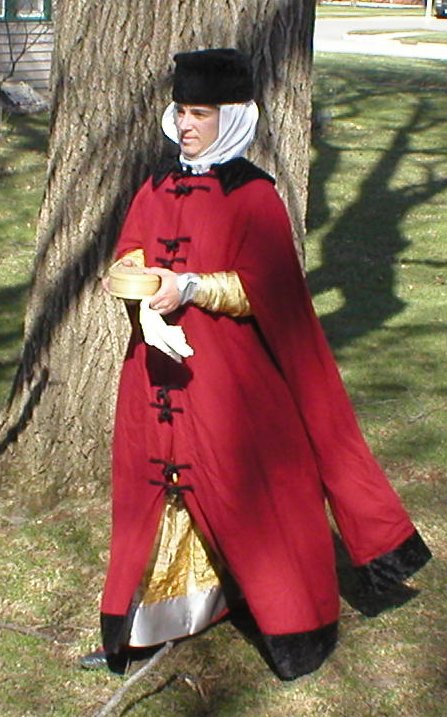 Sofya's opashen is another variation on the ever-versatile rubakha pattern. The garment is cut fuller, open-down-the-front, with very long straight sleeves, and a turned down collar.

The sleeve slits were made by opening the upper part of sleeve seams after the garment was otherwise finished and lined.

It is made of red silk noil, launderable and very nice to work with, and lined with a lovely, smooth, deep black linen. The collar, cuffs and hem are trimmed with crushed velvet. The front closures are made of knotted cording.

While meant as a summer coat, Sofya has found it to be a nice outer layer even for cool spring days. And for even colder days, she has managed to stuff those long sleeves inside her shuba.

With its lining, collar, and sleeve slits, this is easily the most complex garment Sofya has ever made. But it is also her favorite.
---
Sources:

15th Cent. Novgorod Icon.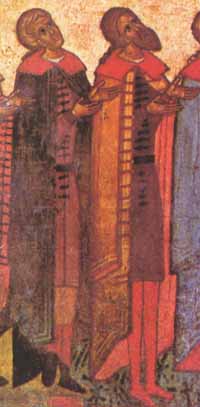 15th Cent. Novgorod Icon.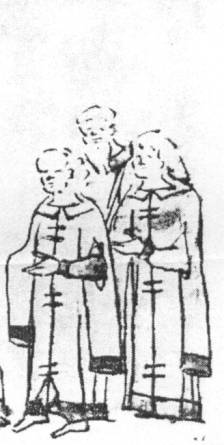 15th Century Radzivill chronicle.
---
Shuba - fur-lined coat.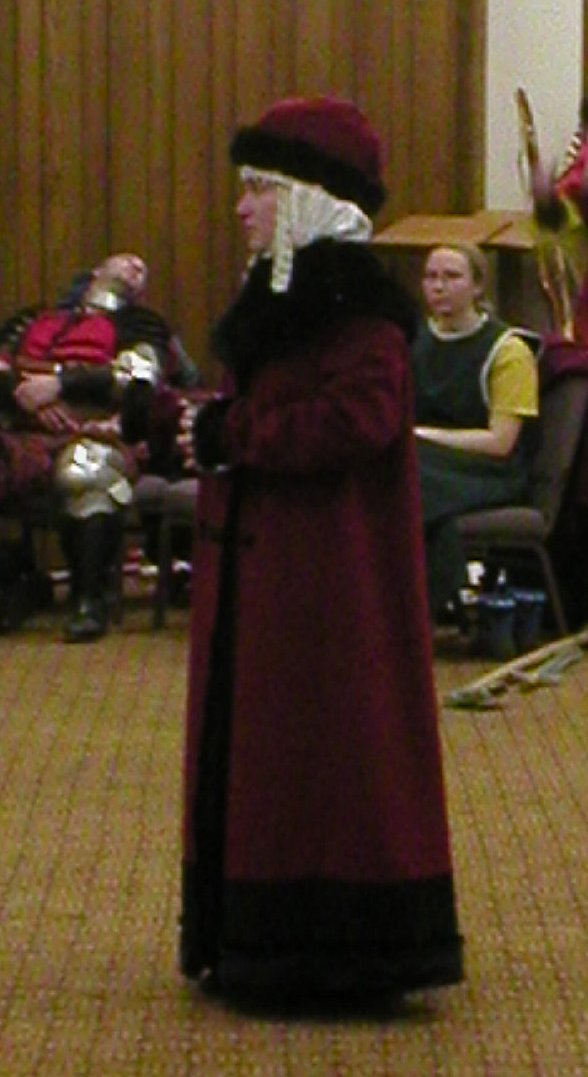 The shuba is similar to the svita or caftan or opashen, except that it is made of heavier fabric and is fur-lined for winter wear. It would be the most expensive garment in Sofya's wardrobe being made of fine imported wool fabric and a valuable fur lining.
I took a big short cut by converting a mundane wool coat that I found in a second-hand store. It was too beautiful a color, and the fabric was 100% wool. I made up for that by making the buttons and loops by hand, based on an illustration in Kolchin and instructions at the Renaissance Tailor webpage.
The wide fur collar is completely separate from the coat, and I often skip wearing it. See accessories, below.
---
Sources: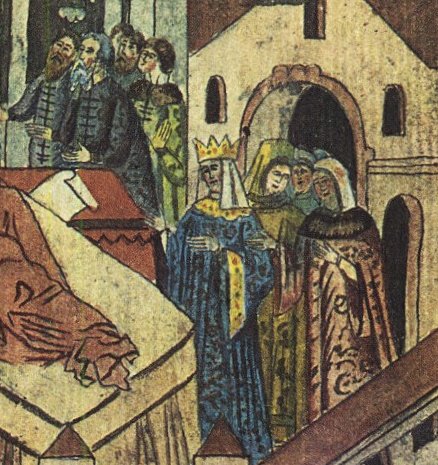 17th cent. illustration of woman in wide fur collar.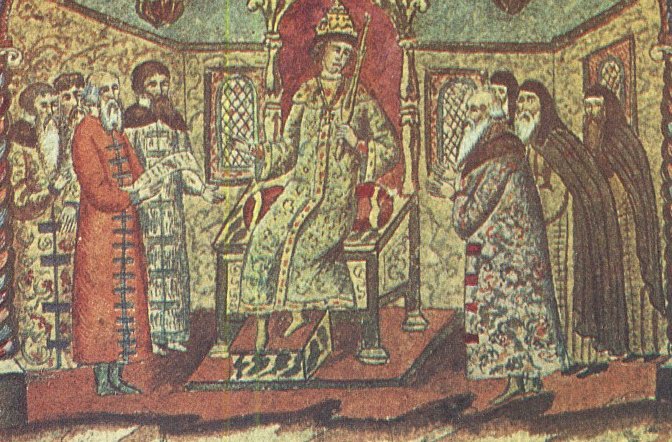 17th cent. illustration of men in shuby, etc.
---
Headdresses.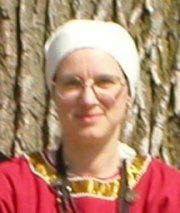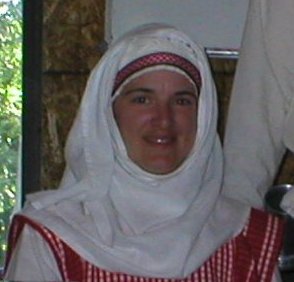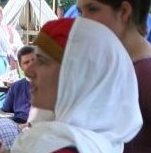 Povoinik - cap
Sofya's headdress starts with a povoinik - a simple "linen" cap - to make sure that her hair is always covered, as it is a disgrace for a woman's head to be bare.

For ornament, she will sometimes tie a card-woven belt or pretty ribbon around the bottom of the povoinik. She also has a rectangle of fabric left over from one of her ponovas that she has adapted into a simple headwrap. (The fabric is very stiff, so it often looks like a hat - depending on how it's been wrapped.)

Sofya has some special caps - one is made of red linen with a golden band, and another is made of netting (so its actually a volosnik) with a white brocade band and pearls. You can see the pearls of the volosnik hanging down under one of the fur hats below.

Photo Essay on Making a Simple Povoinik
Wrapping a Cheater Povoinik
---
Sources: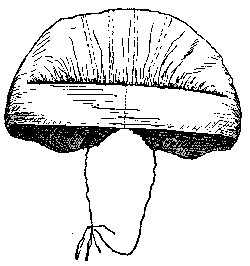 Traditional Siberian cap.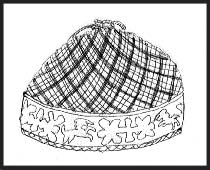 My sketch of a volosnik (net cap) found in a late period woman's grave
---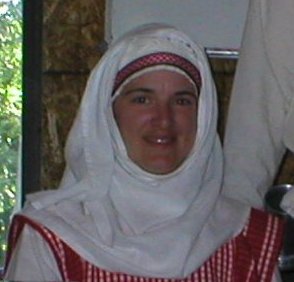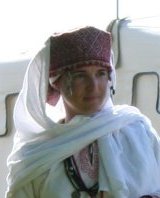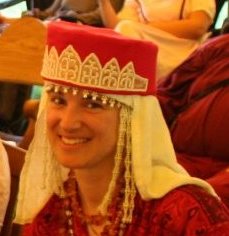 Ubrus - veil
The ubrus, headscarf, is fundamental item in Sofya's wardrobe. She wears one wrapped over her povoinik as her typical headdress.

She wraps the "big" ubrus in different ways depending on the weather. Usually she wears it wrapped pretty closely around her head.

She has other options for hot weather. Version 1 just loosens (partly unwraps) the usual wrapping. Version 2 ties the ubrus at the back of the neck. The third option is to wear a "little" ubrus with the front open.

For formal occasions, she adds a large, sheer linen ubrus over her headdress (see below). It is a bit of a nuisance, since it must be pinned in place and tends to pull, but adds another layer of dignity to the attire for formal events.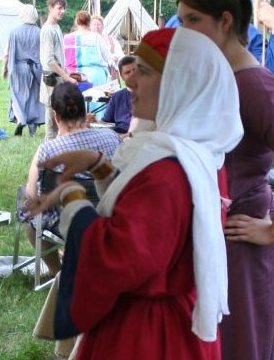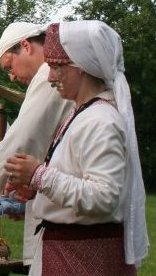 ---
Sources: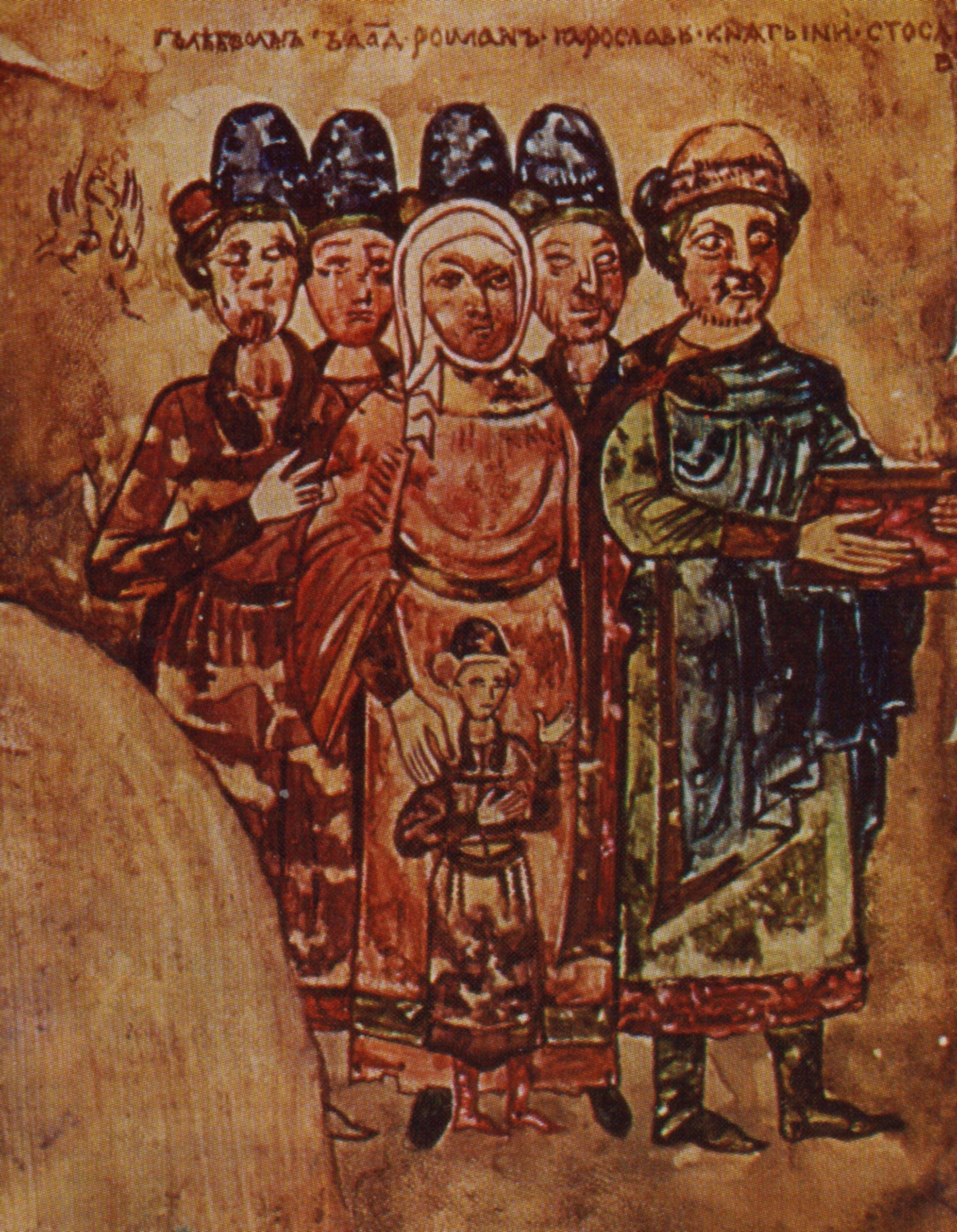 11th Century Sbornik Svyatoslava.

15th C. Novgorod Icon.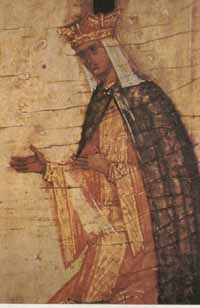 16th C. Icon.
---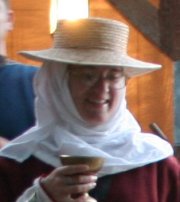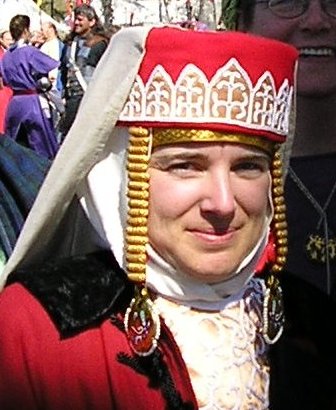 Shapki and kokoshnik - "hats"
A straw hat is very important for those sunny days in the great outdoors. She has a long, muslin tie sewned into the hat to help hold it on securely. A hat similar to a modern boater hat was found in Novgorod in 14th century layers. Sofya now has one.

Sofya often likes to wear fur hats - her hair is so thick, she notices no discomfort from them even in summer's heat. The main factor is what she wears under the hat. On the hottest days she'll wear only a povoinik under it.

She has used a couple of different patterns to make the hats, but never seems to make the fabric covering quite big enough for the fur lining.

She also has a "pillbox style" hat to wear for festive occasions. It is made of red wool on a "birchbark" foundation and decorated with golden applique and white cording couched where, someday, pearls will be added. The large, sheer linen ubrus worn over the hat is a bit of a nuisance, since it must be pinned in place and tends to pull, but adds another layer of dignity to the attire for formal events.
---
Sources: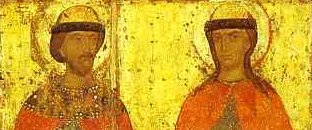 Detail of 14th Cent. Icon of Boris and Gleb.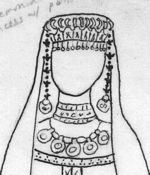 Illustration based on Kolchin headdress reconstruction
---
Collars and Cuffs.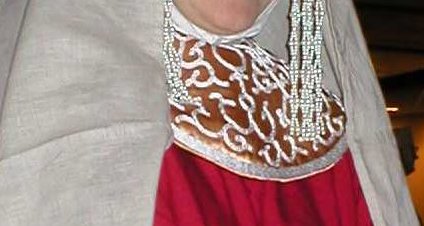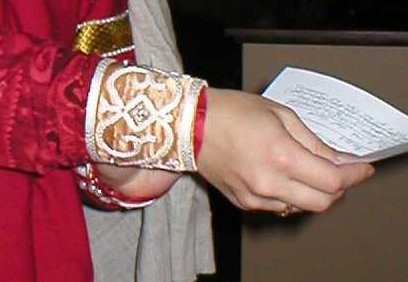 The ozherlya collar and cuffs are made of golden satin over felt for stiffness. The collar is backed with red linen and the cuffs are backed with red satin. They are fastened with pearl buttons and cord loops. (Well, the cuffs are. Until the buttons get sewn onto the collar, it's held on with... pins!)

The collar fastens over the right shoulder.

Both collar and cuffs are decorated with white cording in a foliage/tree of life pattern where pearls will go someday. There are a few sequins and pearls on the cuffs already.
---
Sources: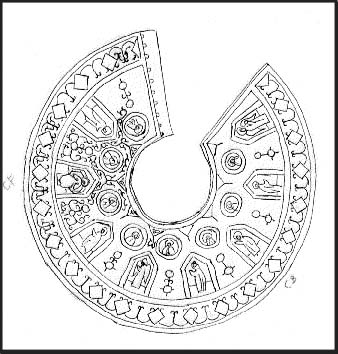 Sketch of 17th Cent. Coronation Collar after Voyce.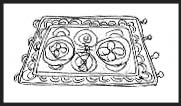 My sketch of a cuff based on [source?].
---
Pouches and Belts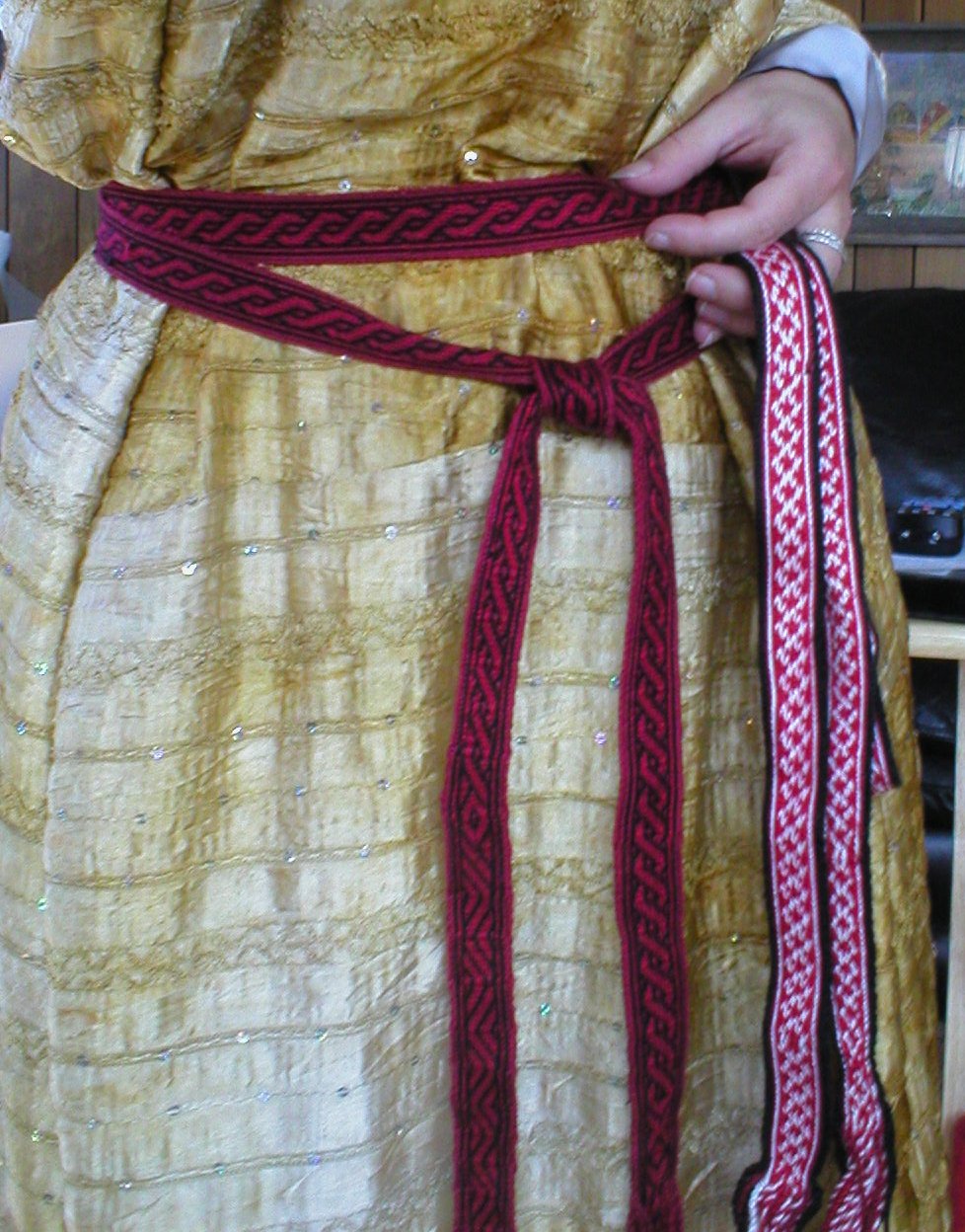 So far for pouches, Sofya just has a simple black leather drawstring pouch for her little necessities and a plain leather shoulder sachel. But she would like to get a nice leather-applique pocketbook or shoulder purse.

As for belts, she uses a plain red woven fabric belt for her under rubakhas, and card woven belts for her upper rubakhas and other outer garments. She also has red and black satin sashes.
---
Sources: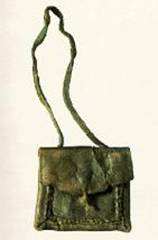 15th Cent. Novgorod leather purse.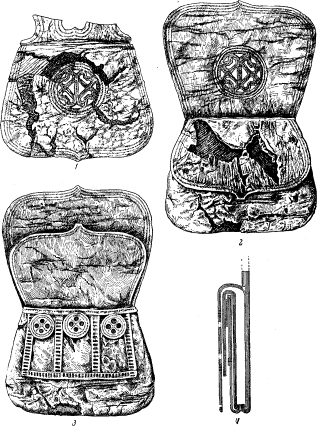 Fancy leather pocket book.
---
Footwear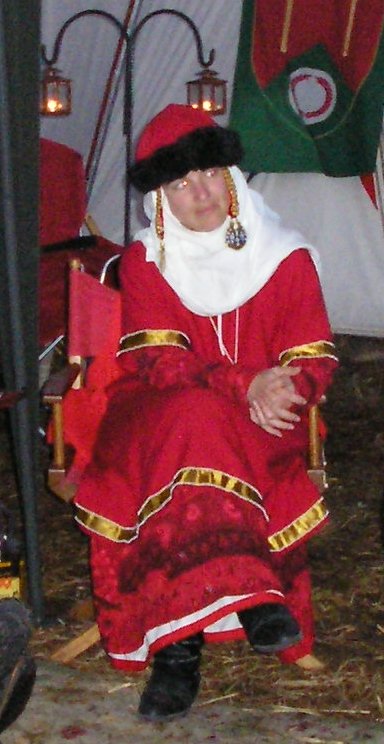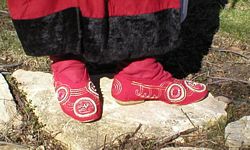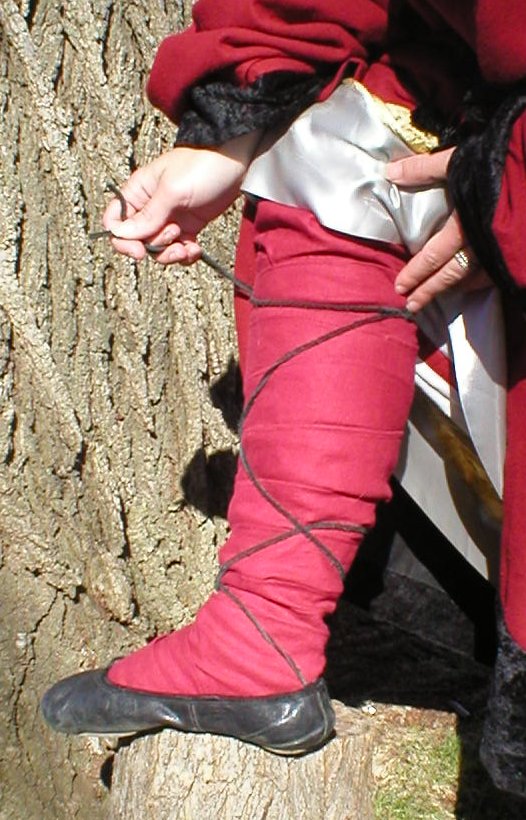 Sofya loves her comfortable black leather boots (sapogi), but they are a little plain, and she is trying to get a pair of embroidered red leather boots with a turned-up toe.
---
For fancy occasions, she has red "linen" shoes (bashmaki) with gold, silver and pearl embroidery. The embroidered fabric is glued to light leather shoes for reinforcement.
She also has black slippers (porshni) with knee-length black leather lacings (povorozi) when it's too hot for boots. She's learned that you need to tie the lace twice at the top. That is to say, once you've criss-crossed up to just below the knee, you tie a non-slip knot, then take the laces around to the other side of the leg and tie another knot. This forms a fixed loop that should be too small to slide down to your ankles.
She wears all of the above over knee-length nogovitsy (hosen) made of wool or linen left over from other garments, and sometimes adds onuchi (leg wraps). The leg wraps are made of the same fabric as the nogovitsy, sewn to be 3-3.5 inches wide and 2-3 yards long. The raw edges are folded only once (to keep down bulk) and hemmed.
Keeping onuchi on can be a trick, especially when made of linen or smooth wools, instead of fuzzy wools which stick to themselves better. Keys to keeping leg wraps on:
Wrap from the top down - the lower wraps lock in the upper wraps.
Wrap over snug nogovitsy. The wraps slide less on fabric than on bare skin. (The nogovitsy need to be a little snug so they won't slide, either. )
Gartors or the long laces from slippers add extra security.
---
Sources: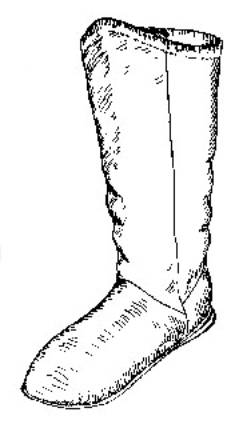 Reconstruction of archeological find.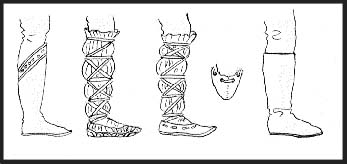 Stamerov reconstructions.
---
Jewelry



Sofya's headdresses are decorated with:
kolodochki (little logs of "metal") on a forehead ribbon,
silver temple rings (Severian inspired, although she should wear Viatichi),
ryasny (temple chains) of pearls and kolodochki,
kolti - "gold" with "enamel" and pearls.
She wears a silver telnik (body cross) on a silver chain at all times under her clothes. In addition she has several necklaces for show:
a "silver" grivna necklace,
a necklace with black beads, medallions (zmeeviki) and amulets (priveski)
a necklace of red and crystal beads (Viatichi favored red & white beads) with a couple of strands of amber.
The problem with necklaces for Sofya is that they're usually hidden by her ubrus.

Sofya has silver bracelets, reminiscent of rusalka bracelets, and some simple silver rings. She would like to get some colored glass bracelets and rings eventually.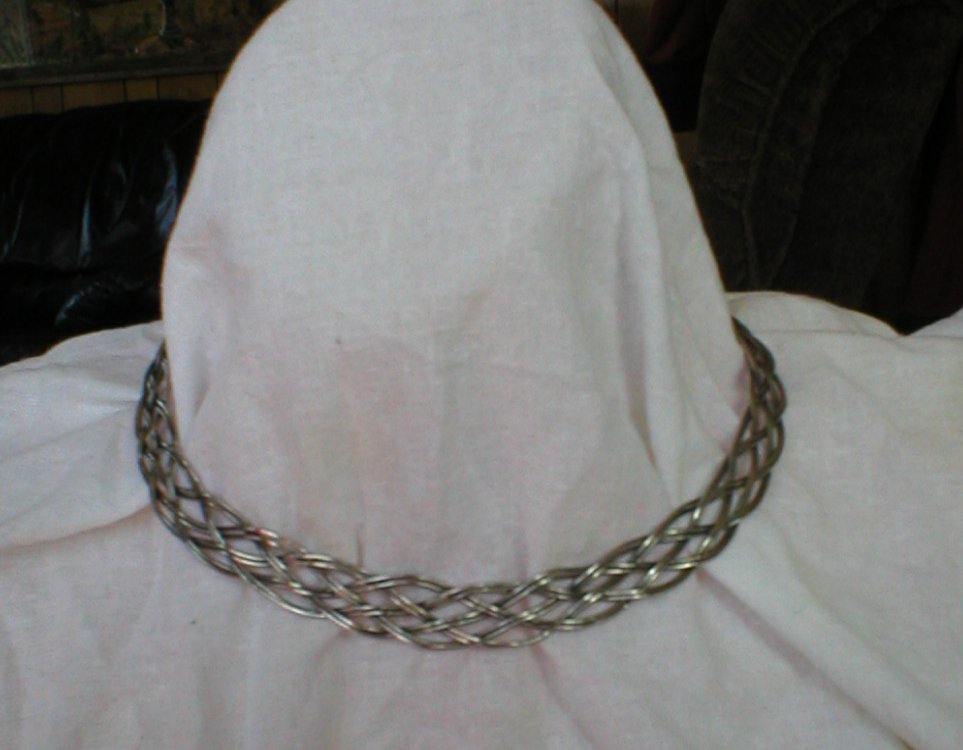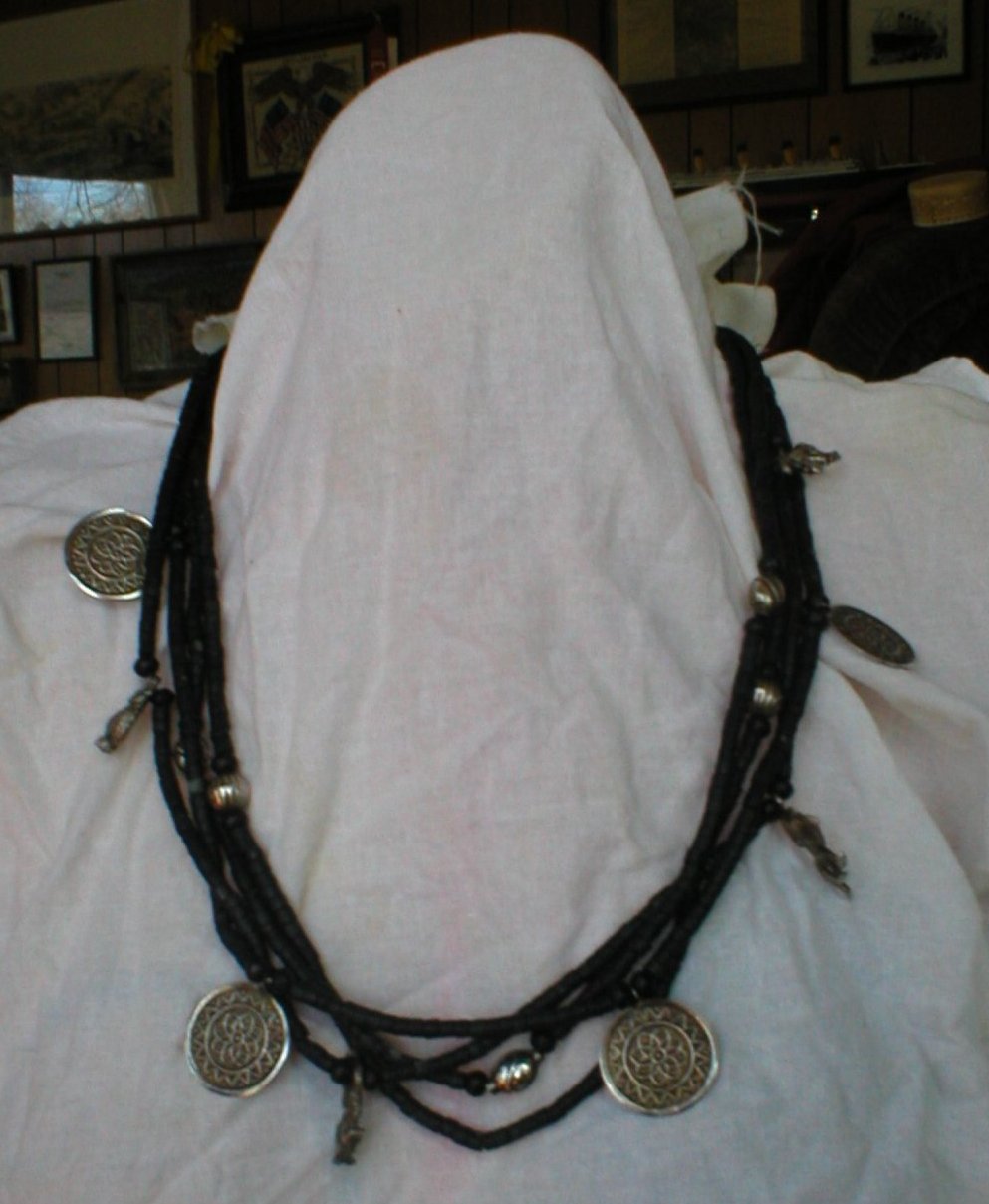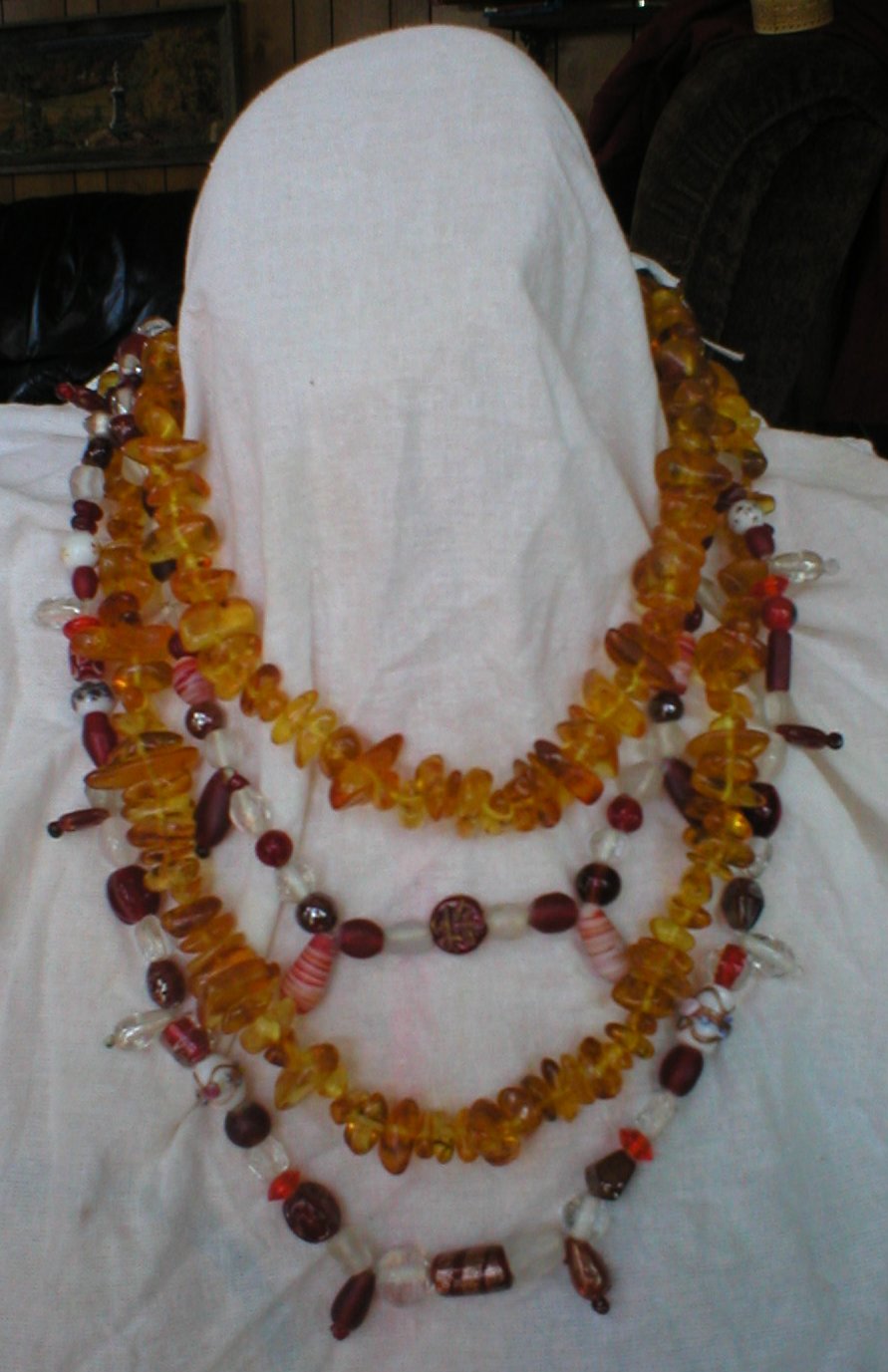 ---
Sources: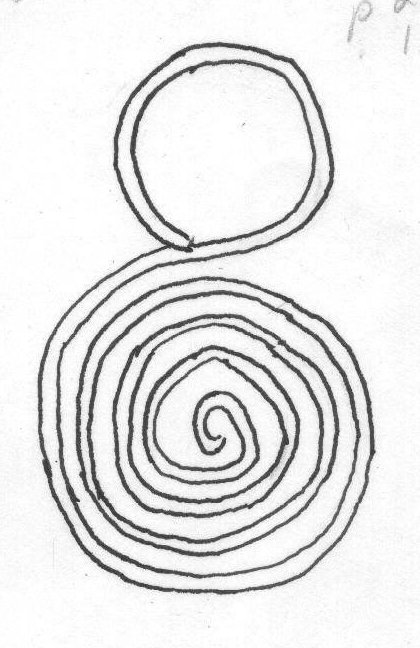 11th c. Severian Temple Ring.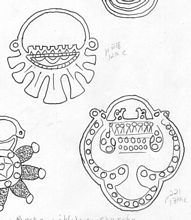 12th & 13th cent. Viatichi Temple Rings.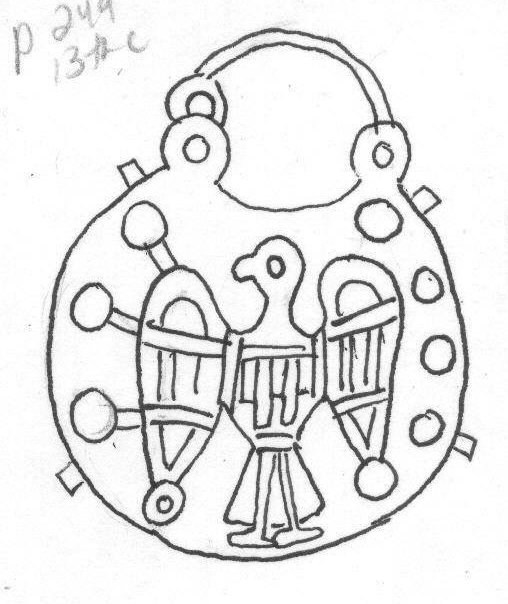 13th cent. Kolta.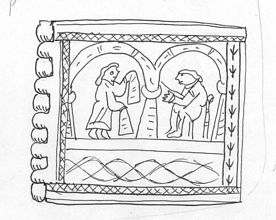 12th c. rusalka bracelet.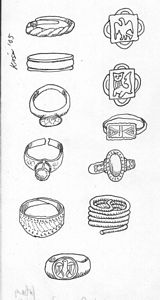 Assorted metal Rings.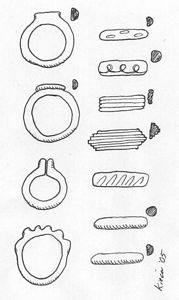 Assorted glass rings.