>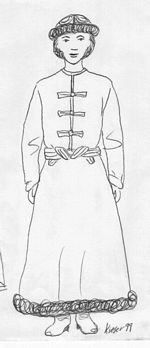 This unmarried maiden is wearing a fur-lined hat over her braided hair. She is also wearing a svita and boots.
Many types of outerwear, especially the svita and the mantle, were designed to be worn over the shoulders or unfastened to reveal the clothing underneath. (Pushkareva97)
I'm still working on the exact identities of these garments. Kireyeva and Stamerov only talk about the svita. Pushkareva talks about the shuba/shubka and opashen, but not the svita. Kolchin only talks about kaftans, polushubka, and "outer clothing" (verkhnyaya odezhda). Bykov/Kuzminin discuss the odnoryadka for women, and the svita and the opashen for men.
Discussed on this page:
Svita/sukna
Kaftan/caftan
Armyak
Feryaz
Odnoryadka
Opashen
Sarafanets
Toroptsa/Izyaslavl dresses
Kozhukh
Shuba/shubka

---
The Svita/Sukna
The svita, cut the same as the common male outer garment, could serve as light outer wear, pulled over the head. The svita was made of wool and lined with fur for winter wear. (Kireyeva) and (Stamerov)

It covered the torso fairly closely and could be of various lengths, but was always longer than the knee and shorter than midcalf for men. The nobility, and presumably women, usually wore it long, below the calf. (Kireyeva) and (Stamerov)

It had a very slight collar and the front opening down the front to the waist was closed with button loop-tabs or small buttons with loops. (The opening did not extend all the way down the garment until the mid 13th cent. according to Stamerov. Kireyeva puts this change in the 15th cent. Period illustrations seem to support Stamerov.) For the boyar class, it was very characteristic for tabs to be sewn as three or four horizontal strips of heavy fabric in a contrasting color, braid or galloon. The sleeves were long and narrow, reaching the wrists. (Kireyeva) and (Stamerov)

Upper clothing in the 9th-13th cent. [Верхняя одежда] About the upper clothing of ancient Rus we have rather little information. In 11th century sources is recorded as upper clothing the svita [свита]. Feodosij Pecherskij wore "on hairshirt svita votolyanu" (PVL, I, p. 129). V.I. Dal' derives this name from the verb "svivat'" [свивать]with the meaning "odevat'" [одевать], "kutat'" [кутать] (Dahl', IV, p. 154). The svita as a garment evidently worn over the shirt is recorded in the Novgorod birchbark letters of the 13th century to which we will turn (Artsikhovskij, Borkovskij, 1958, letter 141, p. 17-18). Although the svita is recorded only in connection with men's costume, this is not a basis to consider it exclusively a men's garment. In any case, in later times the svita was worn both by men and by women. About the cut of the svita there is no precise information. Judging by the depictions, upper clothing of this type was long, approximately to the calf, and densely snugged to the figure (old slavic "obleklo") and sometimes had a turned-down collar and cuffs. Its helm could have been decorated with embroidery (Artsikhovskij, 1948, page 247). Later the svita appears as a long open-front upper garment. (Rabinovich)

The svita was worn with a wide cloth belt. (Kireyeva) and (Stamerov)

Directly over the rubakha was worn the svita. Apparently, it was the most widespread outer clothing of townspeople (only attributed to men by Bykov/Kuzmin) in the XV century. For example, the praying Novgorod boyars are dressed in svitas in an icon of XV century. (Bykov/Kuzmin)

The svita was sewn from a woolen fabric, with a length barely above knees (for men), fastened with buttons made from knots. The svita was seamed at the waist where the skirt attaches. The skirt was slightly flared, both due to a trapezoid cut, and due to side gores. The sleeve widens toward the armhole by means of narrow gores and gussets (lastovitsy). The svita has a velvet turn-down collar and cuffs. (Bykov/Kuzmin)

In the 13-17th cent., for men and women of the common people, upper dress was the same - for example the sukna or svita - an not very warm, wide garment of broadcloth with a lining. There were also fairly expensive sukni of imported materials on a silk lining. (Rabinovich, 13-17 c.)
Kaftan/caftan:
During the 13-17th centuries, the kaftan was an upper garment of women (but more rarely than for men), for indoor and light outdoor wear, and sometimes even for winter (kaftan shubnyj). (Rabinovich, 13-17th c.)

In general (i.e. not necessarily for women), depending on function and style the kaftan was sewn longer or shorter (to the knee or to the ankle), loose or fitted to the body (but always from dense relatively good material, on a lining), and in the overwhelming majority of cases – open down the front, with the right flap laid on the left. (Rabinovich, 13-17th c.)

Along the chest was located usually 8-12 buttons (or strings). It is difficult to say when exactly the kaftan became so widespread in Rus. The very name is of eastern origin. The Arabian travelor used the term kaftan for the luxurious brocade upper garment in which were buried noble Slavs in Bulgaria in the 10th cent. (Ibn-Fadlan, p. 81). This term, obviously, was a term usual for the Arabian author, and not Russian. Russian sources until the 15th cent. did not know the name "kaftan". It is more important that in the 16-17th cent. it spread to a very wide circle of clothes, so that it was necessary to have additional designations – russkij, turskij, pol'skij, vengerskij, stanovoj, terlik [Russian, Turkish, Polish, Hungarian, district, терлик] etc., indicating the detail of cut and trim, connected with fashion. Kaftans were sewn usually with such calculation that they opened slightly for the boots and did not interfere with taking steps: the front of it shorter than in back. The collar was a small standing one or completely absent (then was invisible the richly decorated "orzherl'ye" – the fastened collar of the rubakha or zipun). The standing collar – ozherl'ye – could also be fastened to the kaftan. The sleeves, if they were not folded, were decorated at the wrist with richly decorated cuffs, the chest with buttonholes/loops, and lace. Sources name kaftans of the valuable materials – satin, velvet, silk brocade, damask, moiré, taffeta, camlet, broadcloth, mukhoyarovye [Asian cotton blend fabric] (Sav., p. 52), and also (for the most part for common people) krashenin [dyed homespun linen], twill [sermyazhnyj], sheep, and goat. (Rabinovich, 13-17th c.)

The kaftan was a necessary part of the clothing of poor people and wealthy and, depending on the intended use, could be made of luxurious material on valuable furs or from the simple sermyaga [homespun wool twill] on sheepskin. In wealthy property were many kaftans. Thus, among the property of prince Yu.A. Obolenskij, in the middle of the 16th century were named five kaftans: "Kaftan on pupkakh [navel] sable, colored sash with gold, 9 buttons, kaftan greene on white cherevyakh [belly fur]… kaftan damask… slanting collar, lined with taffeta, Turkish kaftan 10 buttons of silver… kaftan with slanted collar…" (AFZIKh, II, p. 207-211). In the year 1680, from the house of landowner A. Aristov (from Shiryaevo Moromskij u.) were, among other property stolen, eight kaftans: "Kaftan kindyashonj [red or printed cotton fabric], buttons silver vol'yashnye [?] (obviously, belonging to nobleman himself. – M. R.), and two valuable childrens kaftans, buttons silver… four kaftans of sheepskin" (possibly, the house-serfs) (AYuB, III, No 329, stb. 270-272). At the end of the 18th century, in the description of one rich dowry (city of Rostov) were enumerated ten kaftans – brocade on fox, Turkish with golden stripes [nashivka], green satin light/cool kaftan, brocade silk, remaining a bit simpler-two new sheepskin, two broadcloth, two bright red cotton warm "childrens" (AYuB., III, No 328 – V, stb. 267-269). It is interesting that in the list was given children's kaftans. They, as in previous cases, were not especially rich. In peasant families were " two kaftans broadcloth, shubka borlovaya [spotted cotton fabric?] women's" (T. Vor. UAK, V, No 8701/2478, p. 652). (Rabinovich, 13-17th c.)

Among the objects of clothing, the closest in function to the kaftan should be called the kabat – a long warm garment with long sleeves. The kabat was worn only at home and sewn, therefore, of modest materials (Levinson-Nechaeva, 1954, p. 309). (Rabinovich, 13-17th c.)
Armyak:
A loose, dressing-gown-like upper oudoor garment. Made of thick homespun broadcloth, called armyachiny, for common people. Noble people wore it only at home and made if of more valuable fabrics. Prince Obolenskij had a "azure cotton armyak" and a "fine linen armyak". [Worn by women as well as men?] (Rabinovich, 13-17th cent.)
Feryaz':
In discussing clothing of the 13-17th century, Rabinovich says the function of the feryaz' often recorded in sources among objects of clothing is not completely clear. Usually this was a long (almost to the ankle) loose upper garment open down the front, fastened with 3-10 buttons or ties, with long sleeves, gathered at the wrists. The feryaz' could be cool (on a lining) or warm (on fur). Sometimes it was thrown over the shoulders over the kaftan, shuba or half-kaftan like a cloak, sometimes it was worn under the kaftan like the zipun. Apparently there also existed a feryaz' without sleeves. It is possible, that the Arabian word faradzhijya indicating for the Turks men's and women's long dress with wide sleeves, served as the name for several garments, differing in cut and function. Klyuchevskij considers that if prosperous people wore the feryhaz' over the kaftan, common people wore it on the rubakha. (Rabinovich, 13-17th cent.)
Odnoryadka
In the 13-17th cent, the favorite outdoor garment worn by men and women in the spring and fall (a so-called, two-season garment) was the odnoryadka. Odnoryadki were sewn of broadcloth or other wool fabric "in one layer", i.e. without a lining. This was an open-front, long, wide garment with long folding/colapsing sleeves and a slit for the hand at the armholes. The skirt was shorter in front than in back. "Women's broadcloth odnoryadka, thick red broadcloth of raspberry color, with 12 large silver filigree buttons, and an women's cherry odnoryadka" from a 1672 description. Other sources record "blue broadcloth for odnoryadka", "azure odnoryadka". (Rabinovich, 13-17th cent.)

Over the letnik in cool weather was put on outer clothing similar to the man's opashen', however, judging by images on engravings and icons, they wore it clasped with numerous buttons. Boyarynya Maria is dressed in this way in the icon "Praying Novgorodtsy ". One of names of this garment - odnoryadka. (Bykov/Kuzmin)

Odnoryadki were sewed from smooth woolen cloth [sukno] or other woolen fabrics "in one layer" (i.e. unlined), and thus the name. [odno means one, ryad means layer] (Bykov/Kuzmin)

The odnoryadka reconstructed on the Partizan website is open down the front, cut long and wide with long thrown back sleeves and holes for hands at the armhole. The collar and sleeve cuffs are sheathed with the fur of silver foxes (at that time - one of the most valuable furs). (Bykov/Kuzmin)
Opashen
Seems to be a richer version of the odnoryadka.

From French alogo [scarlet?] smooth wool cloth ("skorlat") was sewn "opashen'" - an unusual garment for the time with very long sleeves narrow to wrist and cut longer in back than front. "Opashni" could be worn over the shoulders, cloak-like. (Pushkareva89)

In summer, prosperous men and women wore over the shoulder, "na opash", light silk opashni of loose cut with long, narrowing-to-the-wrist sleeves, with a silk or cotton lining. The skirt, like that of the odnoryadka, was cut shorter in front than in back. It had sleeves, but was not belted. Such an opashen was found during the construction of the Msocow subway in cracks in the wall of Kitajgorod. (Rabinovich, 13-17th cent.)

The opashen' was decorated with large buttons. "Opashen green velvet with eleven gold pear-shaped buttons... opashen of light green amburski camlet with nine silver pomegranate-shaped buttons..." are recorded in a 16th century will. (Rabinovich, 13-17th cent.)

Bykov/Kuzmin give the opashen nearly hem-length (!) sleeves with holes in the upper part of the sleeves to let the arms out.

The opashen' was formal/dressy special-occasion clothing of cloak-like type for men in the 15th cent. according to Bykov/Kuzmin. The opashen' was sewn from smooth woolen cloth (sukno). It has a satin (atlas) turn-down collar trimmed with river pearls on its edge. Lengthwise along the flap of the opashen' are sewn sixteen pairs of horizontal loops and buttons. Buttons were cast of brass, pear-shaped. Sleeves were long and narrow, with holes in the sleeves near the armholes through which the hands could pass. Owing to sewn in armhole gussets (lastovitsy), opashen' is convenient to wear over-the-shoulders - "on opash' ". In miniatures of the Radzivillovskoj annals, opashni are worn and clasped with buttons, passing hands through the holes in the sleeves. (Bykov/Kuzmin)
13th Century Dress from Toroptsa and Dress from Izyaslavl:
An entire dress was discovered in 1957 in the strata of Toroptsa, burnt in the second-half 13 cent. as a result of Lithuanian invasion. In the 30 years which elapsed from the moment of excavation, it was strongly deformed, since it was not restored. The dress was made up from the large number of large fragments. It was sewn from woolen fabric of various textures [?]. Top of dress - from the woolen cloths of tabby weave, the bottom - from the cloth of twill weave. The folds are visible on some fragments. Well was preserved the sleeve narrowing to the wrist with a gusset [lastovitsa, the underarm gusset]. It is made from the cloth of twill weave, the lastovitsa - from cloth of tabby weave. The seams, the connecting parts of dress, are made in such a way that the edges of the cloth would not be peeled off - with a "zaposhivochnym seam" [flat-felled]. This technique of sewing arose with the simulation of the cut of clothing. However, in Toroptse is found a piece of cloth with ornament in the "branoy" [brocade?] technique.

One additional entire dress is found in Izyaslavl. It was sewn from several forms of the finest woolen cloth of tabby weave and cut with a top/bodice and separate skirt. The top of the dress is lined. The collar [vorot] is sheathed with a kajma [border] of more closely woven cloth. The kajma is constructed double and is pierced with horizontal stitches. The neck slit, located on the left of the collar, passes into the shoulder seam. At the waist a skirt is sewn to the bodice. It is put together with small gathers, for which are sewn four parallel seams. At the seam uniting the bodice with the skirt, is sewn the golden-fabric ribbon, edged on two sides with silk thread, twisted in the form of rope. A kajma was sewn along the hem. Judging by the seams, the sleeve was sewn under the arm, where a strip of cloth with a width of 5 cm was sewn. This detail is sewn across the sleeve with the finest seam - "forward needle" [vpered igloj], and then a back stroke [backstitched?], the space between the stitches is filled so precisely, that it creates the impression of a machine seam. [The depiction of this seam looks like it was made with two passes of running stitch, placed to "leap-frog" each other, and thus, it resembles machine sewing.]

To judge the length of a dress is difficult. Only scientific restoration can give a complete idea not only about the technology of an article, but also about its form and size. If the proportions of the assembled dress are essentially correct, then its length reaches the knees.

[I'm not sure what these dresses are. If they are women's garments, as implied by Kolchin's illustrations - they could be jackets, navershniks or svitas. If they are men's garments, then they would probably be svitas. Pity the artifacts that archeologists dig up don't come with nice labels...]
---
Fur-lined outer garments were used as winter garments of both men and women. These are generally all called shuby. While the different types of shuby differ in cut and material, they are all fur-lined. The terminology can be confusing. A "naked shuba", i.e. a fur-coat without any fabric covering, is generally called a kozhukh. But sometimes a fabric-covered shuba was called a kozhukh. And sometimes the term shuba was used for a "naked" garment, more properly (?) called a kozhukh. This confusion will be reflected in the notes below. (Rabinovich, 13-17th)

As the word "shuba" is of eastern origin, perhaps it gradually came to be applied to the garment known as kozhukh after the Mongol conquest, which is why Rabinovich only mentions the kozhukh for early period, and by later period discusses both terms and the confusion between them. It is entirely possible that the terminology spread unevenly in different regions of Rus, adding to the confusion.

Kozhukh:
For the 9th-13th cent., the most widespread winter upper garment was the kozhukh [кожух]. It's very name says that it was made of skins of animal with the fur inside. The common people wore the kozhukha with the "naked" sheepskin, as it would later become called, tulupy [тулупы] or (more short garment) polushubki [полушубки], also made mainly of sheepskin. The rich and the elites sewed expensive kozhukhi, covered with gold Byzantine material, edged with lace [кружево], and decorated with stones. In 1252, Daniil Galitskij dressed for a meeting with foreigners "kozhukh of olovira Greek and gold lace flat sewn, and boots of green khza sewn with gold" (PSRL, I, stb. 814). Expensive kozhukhi were desired military spoils (SPE, Page eleven). If peasants and ordinary city dwellers wore kozhukhi, to defend from the winter cold, then nobles dressed up with richly decorated for clothing for prestige, possibly, and not for cold weather. (Rabinovich, 9th-13th)

In the 13th-17th centuries, the common person wore the kozhukh, that is a naked shuba, with the fur not covered by fabric. Poor people - peasants and city dwellers - as in antiquity, wore sheepskin or, more rarely, goatskin. For prosperous city dwellers and nobles it was made from carefully selected, even expensive, fur. And a princely kozhukh could be sewn with stones and plaques. Ivan Kalita (ruled 1328-1340) had 4 kozhukhy sewn with pearls and plaques, one was described as raspberry or cochineal in color (?). He also had one "kozhukh" covered with yellow moire (which according to the usual definition would actually make it a shuba. 150 years later, a Verejskij prince willed to his son a "kozhukh covered in damask, lined with sable.) (Rabinovich, 13-17th)
Shuby/Shubki
The best garments, judging by description in one will, were shubki: one of which was lined with fox. (Pushkareva89)

Fur coats/shuby (equivalent to the svita?) were sewn with the pile inside, buttoned in front and worn as an upper garment for both men and women. Originally, the leather side of the fur was not covered by anything, hence another name for shuby was "kozhyux" (leather).. But with time nagol'naya (not- covered-up, naked) fur garments became considered crude, and shuby were covered with the most expensive and striking fabrics although poor families might not be able to afford the cloth to cover the outside of such a coat. Most women aspired to own several outer layers, of different types of brightly colored cloth, to wear over the fur lining - white, yellow, crimson, green in satin, aksamite, ob"yar, kamka, or fine smooth wool cloth.

Ob"yar' and kamka were imported silk fabrics. Ob"yar is a silk moire, often with gold or silver, popular in 15th-17th century Rus. Kamka is imported (Chinese) silk with broad/abstract patterns in a single color. (Zhargon)
Russian princesses of the 15th century might own dozens of these - "crimson, red, dove gray, pastel blue, green" or "from the skins of squirrel bellies," or "two sable coats from natural [blue-gray] velvet with gold embroidery" or "an overcoat, covered with Venetian silk" all appearing in a 15th century Kholm princess' will. Shuby were worn with great care and passed on from mothers to daughters. (Pushkareva97 and 89)

Befitting this toilet was the collection of clothing of the Volotskoj princess-wife Ul'yana Mikhailovna. Crimson gold velvet and Boer gold kamka, lined with sable and marten fur, served as materials for sewing seven shub and kortelya. And a princess bequeathed to Egorevsky abbot Misail a "kortel" of light blue taffeta on squirrel. (Pushkareva89)

Prosperous city dwellers and nobility prefered to cover their fur coats with fabric as valuable as they could afford. Although, as noted above, even great princes apparently wore naked shuby, i.e. kozhukh. Shuby, like kaftans, existed in many styles depending on fashion. This is mostly evident after the 15th century (so I will not discuss the various styles here). The 16th century wardrobe of Prince Obolenskij included 6 shuby - "velvet shuba on sable, damask shuba on sable with 11 carved pomegranate buttons, shuba of naked sable, shuba martin naked, two shuby ermine..." In 1668, a dowry included 5 shuby; "gold satin shuba with lace on ermine, yellow damask shuba on sable, hammered silver lace, gilded silver buttons; shuba on ermine, lace hammered gold, gilded silver buttons; colored taffeta shuba on white back fur..." (Rabinovich, 13-17th)

About the cut of the shuba we have little information. It was open-down-the-front, with wide sleeves narrowing to the hand. There existed also folding/collapsing sleeves (to be pushed up on the forearms). The length of the shuba depended on the style - it could be just a little lower than the knee or long almost to the heel. The collar was fur, in various styles. It was generally a loose garment, but some verions were fitted. Decorations were the same as on other upper garments: loops/buttonholes, buttons, hammered lace (?), fur edging. (Rabinovich, 13-17th)

It seems to have been the most formal garment of prosperous city dwellers and nobility. For poor people, it sufficed to have one simple shuba. Such a shuba was worn by Metropolitan Philip during his exile (1566-1569) and was preserved as a relic. It was long and straight, not widened by gores downward. The sleeves were very wide, narrowing to the hands. There were 30 buttons sewn to the right flap, with loops on the left. It was made of rough homespun black-brown broadcloth, over common brown sheepskin. This sheepskin also made the small laid-down collar. (Rabinovich, 13-17th)
---
Comments and suggestions to lkies@jumpgate.net.
Back to Women's Clothing or Early Rus Clothing.
Back to Russian Material