Nool Pyat
Search and Rescue Specialist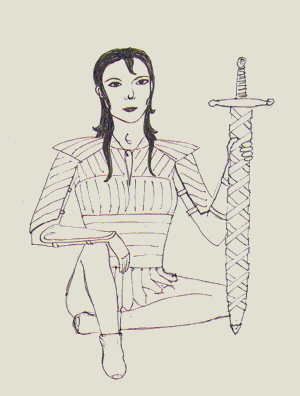 Agility = 64
Beauty = 60
Dexterity = 65
Endurance = 55
Hearing = 30
Istropy = 20
Mentality = 59
Quickness = 69
Reaction = 69
Speed = 40
Strength = 63
Vision = 61

Human female, 5'9" 160lbs, black hair, brown eyes, right-handed.

Family: Sem Pyat (father), Adeen Pyat (mother), both deceased.

Born: Trangle, 10019.

Personality: her former happy-go-lucky fun-loving temperament has been considerably tempered by experience. Having found a home in SOAK, she no longer needs to be so eager for acceptance and is dedicated to protecting and preserving SOAK and its ideals.

Goals: get a small tool kit and camoflauge face-paint, improve UAC (brass knuckles?), raise long sword to VIII, improve urban sneak to III, raise languages to level II and get more languages, improve orienteering and tracking, work on survival skills.

Missions:
---
Back to Characters Page.
Back to D&D Documents
Back to my homepage.