Koshka
Updated March 2001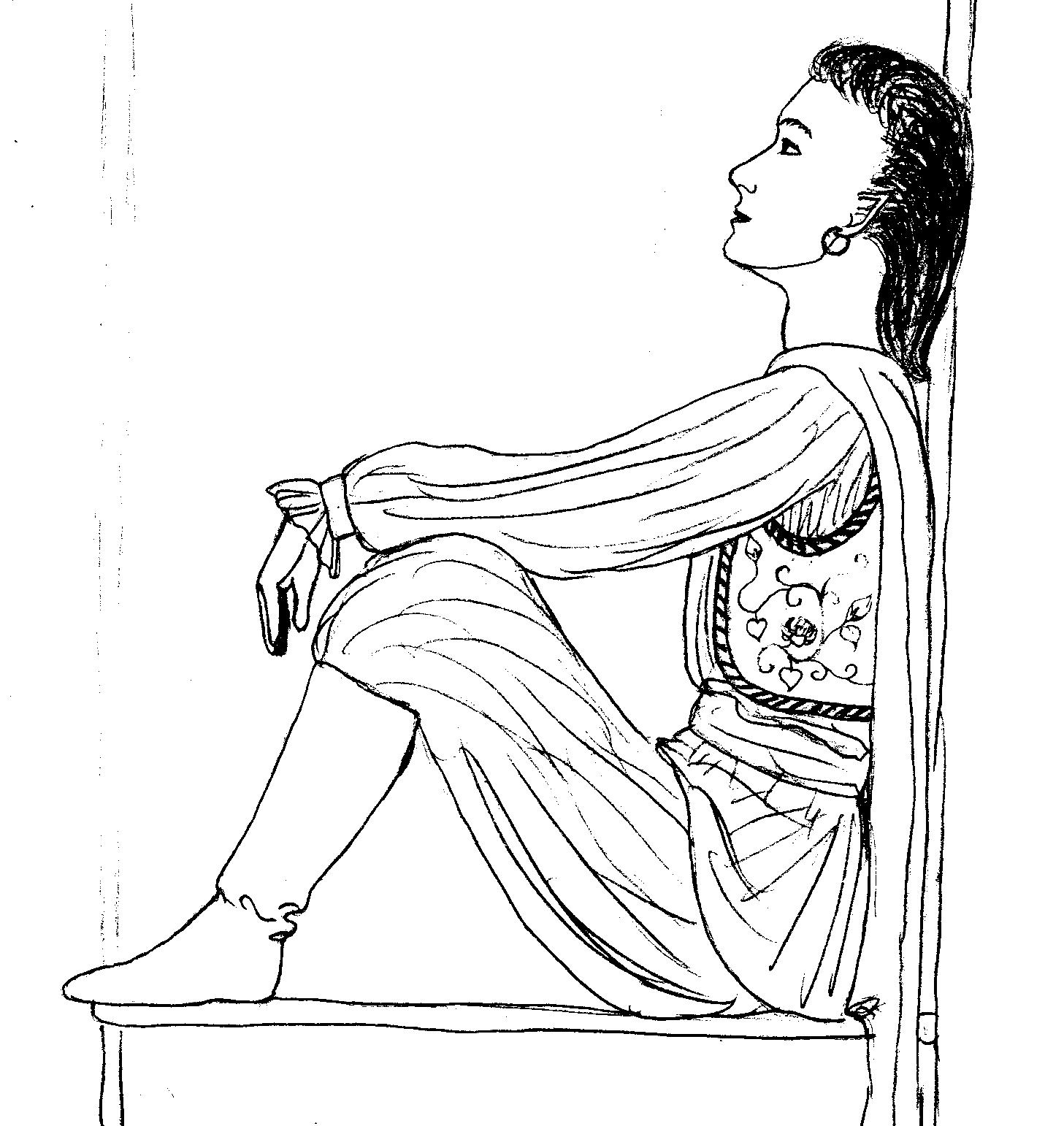 Chaotic good elven seamstress (fighter/thief - 6th/7th). She stands less than 5 feet tall with brown hair and gray eyes, and wears beautifully tailored clothes.
STR 16
DEX 16
CON 12
INT 12
WIS 8
CHR 13

40 hit points, leather armor, bracers AC3 plus dex bonus -> AC1.
XP = 59,754/59,754 (needs 64,000/70,000 to advance)
THAC0 15 (14 for bows/swords, elf; and missile weapons, DEX)
Prefers to fight two-handed with +1 long sword and +3 dagger, THAC0s of 14 and 15, respectively.
short bow - 1d8/1d8, range=5/10/15
dagger - 1d4/1d3 (+3 dagger), range=1/2/3
long sword - 1d8/1d12 (+1 sword)
lasso (+2 hit from rope use)
sling (stone - 1d4 4/8/16) (bullet - 1d8 5/10/20) Backstab +4 to hit and x3 damage.

Special Skills: (in leather armor)

Pick Pockets 35%
Open Locks 60%
Find/Remove Traps 50%
Move Silently 50%
Hide in Shadows 50%
Detect Noise 40%
Climb Walls 90%
Read Languages 10%

Languages: Elvish, Common

Proficiencies: Jumping (16), Tumbling (16), Tightrope Walking (16), Rope Use (16), Appraising (12), Swimming (16), Seamstress/Tailor (15).

Magic Items: Ring of Missile Snaring, Wand of Flame Arrow (59) loaned to Gaebril, Bracers AC3, Bracers AC6, gold locating arrow (20-30 minus 5), scroll to open gate home (unreliable) with Gaebril, 6 continual light coins, Fire Orb, +3 dagger, +1 longsword, 1extra heal and 1 heal potions, cancellation thingy, Levitation Carpet with control ring, iron key with skull head that radiates magic (from miniature castle).

Treasures: 80pp, 32gp + 1010, 6sp, 9cp, three 500gp gems, two 100gp gems, twenty 10gp gems, nice earrings, gold ogre necklace, diamond tiarra (hidden away), diamond phoenix necklace (hidden).

Other equipment: thieve's picks, sewing needles, whetsonte, silk rope, chalk, flint & steel, bedroll, thread, a couple weeks iron rations, normal dagger, 100gp normal dagger, small old set of thieves tools, blue bird feathers.