Feya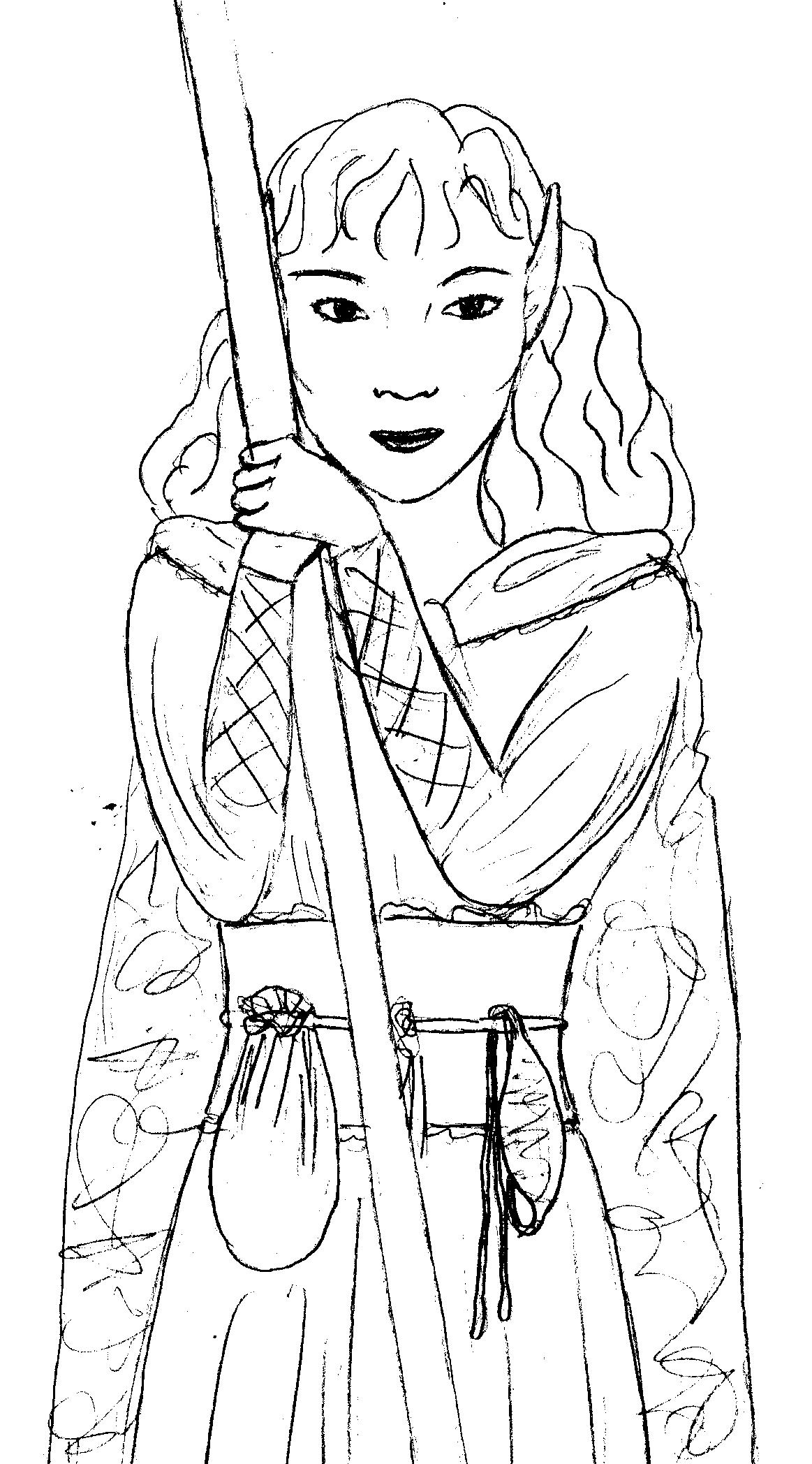 Neutral good, half moon elf druid (follows Eldath) in her late 20's. She's 5 feet tall with soft white hair and gray eyes, giving her a delicate, almost ethereal, appearance. She lives in the Moon Forest with her half-sister, Fawn.

STR 5
DEX 15
CON 15
INT 14
WIS 16
CHR 16

48 hit points, 7th level, cloak of elvenkind (+5 prot)

SAVES - Paralyze/Pois/Death (7), Rod/Staff/Wand (11), Petrify/Polymorph (10), Breath (13), Spells (12) (wis +2, dex -1)

THACO 16

staff - 1d6/1d6 (-1)
sling - 1d4/1d4 (-1)
scimitar - (Flame Blade - 1d4+4 vs. vuln, 1d4+2 vs. prot)

Languages: halfling, common, druidic, orc, gnome, treant, giant, elf, dwarf.

Proficiencies: Tracking (), Healing (), Herbalism (), Fishing (), Swimming (), Survival (), Hunting ().

Magic Items: Staff of Moonglow, ring of free action, mirror lake "Ozera", goodberries (1 HP each), sweetwater potion, two heal potions, 4 scrolls:

11th level - Sticks to Snakes, Giant Insect, (Wall of Fire)
9th level - Pyrotechnics, Dust Devil, (Produce Flame), Create Water
14th level - Conjure Earth Elemental
Other - has three things on it but Feya can't read it.

Other equipment: flint & steel, fish hooks, sewing needle, whistle, holy symbol, spell components, a little food.

SPELLS

First Level (5)
Bless
Cure Lt Wounds
Entangle
Shillelagh
Second Level (5)
Barkskin
Dustdevil
Flameblade
Slow Poison
Goodberry
Third Level (2)
Protect from Fire
Pyrotechnics
Snare
Summon Insects
Tree
Fourth Level (1)
Cure Serious Wounds
Neutralize Poison
Repel Insects

Miscellaneous Info:
resistance to sleep and charm spells
60ft infravision
change to detect secret/concealed doors.