De Vushka
Professional Damsel in Distress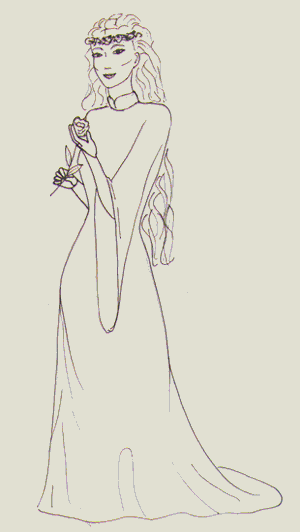 Agility = 50
Beauty = 87
Dexterity = 57
Endurance = 60
Hearing = 54
Istropy = 41
Mentality = 60
Quickness = 65
Reaction = 69
Speed = 42
Strength = 39
Vision = 53

Human female, 5'11" 150lbs, blond hair, blue eyes, right-handed.

Family: .

Born: 10016.

Personality: very careful to maintain her virtue (a professional necessity) she is still a very charming flirt and her common sense should serve her well as she transitions to a more active role in adventures and investigates fulfilling the ancient orcish virtues she recently learned about.

Goals: get a week of seamanship, raise UAC and other combat skills, increase dancing skills, learn about the ancient orcs, increase survival skills, learn more languages.

Skills: long sword, dagger, unarmed combat, charm, singing, horsemanship, wreath-making, forest survival, mountain survival, first aid, swimming, rural sneak, urban sneak, climbing, dancing.

Languages: common, sign language.

Missions:
---
Back to Characters Page.
Back to D&D Documents
Back to my homepage.